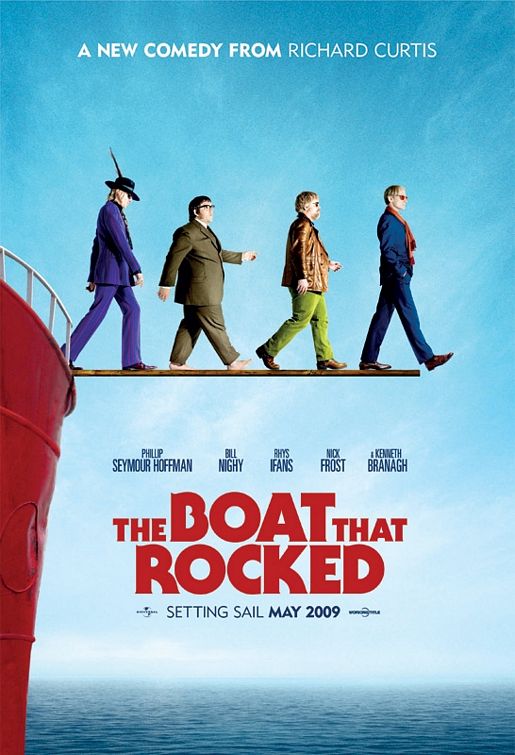 Debido a la "fiesta del cine" (
http://www.fiestadelcine.com/
) de la cual desgraciadamente por incompatibilidad de horarios no pude disfrutar, el domingo decidí de todas formas encaminarme al cine con la intención de ver "Los Mundos de Coraline",(
http://www.coraline.es/
) no pudo ser y en su lugar nos metimos a ver "The Boat that Rocked".
Un gran plan B.
"The Boat that Rocked" cuenta la historia de los locutores de radio de una emisora pirata en la Inglaterrra de los años 60.
Mientras que la BBC emitía por aquel entonces sólo 2 horas de rock-pop a la semana, la radio pirata emitía 24 horas al día.
Más de 25 millones de personas escuchaban a: "El Conde" (Phillip Seymour Hoffman), el legendario Gavin (Rhys Ifan), Dr. Dave (Nick Frost), Simon (Chris O'Dowd), Midnight Mark (Tom Wisdom) -chicas, atención a este-, Thick Kevin (Tom Brooke), On the Hour John (Will Adamsdale), Angus "the nut" Nutsfor (Rhys Darby). Junto con ellos tenemos a Quentin (Bill NIghy), dueño del barco y a su ahijado Carl (Tom Sturridge).
En su contra está el gobierno, encabezado por MP Dormandy (Kenneth Branagh) y su asistente Twatt (Jack Davenport).
Un buen elenco de actores, excelente música, y un hilarante guión, hacen de "The boat that rocked" / "Radio Encubierta" una buena película.