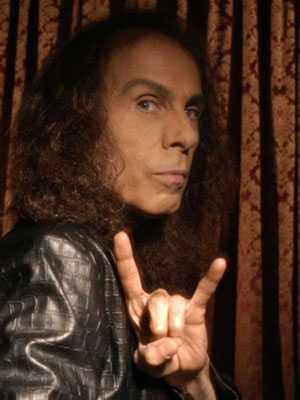 The ending is just a beginning: Rest in Peace Ronnie James Dio
Ronnie James Dio passed away on Sunday May 16th after losing the fight against a stomach cancer.
Recognized for popularizing the use of the metal horns (he claimed his grandmother used it to ward off evil spirits), Dio, one of the most powerful singers in heavy metal, led a life devoted to music.
Born in 1942, in New Hampshire, USA, as Ronald James Padavona, he was classified as "the single most important vocal technician in the history of heavy metal" and was part of several influential heavy metal groups.
It all began with the assembly of Elf, which worked as the opening act for Roger Glover's, Deep Purple. Dio's powerful voice caught Richie Blackmore's ear, so when he abandoned Deep Purple and created Rainbow he recruited him. After abandoning Rainbow, in 1979, he joined Black Sabbath, replacing Ozzy Osbourne and revitalizing the group until 1982. He then went on to form a band with Vinny Appice, former Black Sabbath member, which they named Dio, due to the commercial appeal of the name. Finally, in 2006, he formed part of Heaven and Hell, a collaboration featuring other Black Sabbath members, such as Tonny Lommi and Geezer Butler.
Through it all, he also made several collaborations with for example, Roger Glover in 1974, Deep Purple from 1999 to 2001, Girlschool in 2008 or the Christmas Compilation "We wish you a Metal Xmas and a headbanging New Year" with several artists, also in 2008.
Heaven or hell, over the rainbow, wherever he is, he will be sourly missed and never forgotten. He will pass on to be what he was already in life: a legend of heavy metal.
Rest in Peace Ronnie James Dio.
ESPAÑOL
El final es sólo el principio: Descansa en Paz Ronnie James Dio
Ronnie James Dio, murió el domingo día 16 de mayo, después de perder una lucha contra un cáncer de estomago.
Reputado por haber popularizado el uso de los cuernos del Heavy Metal (decía que su abuela los utilizaba para espantar el mal de ojo), Dio, una de las voces más potentes del heavy metal, vivió una vida dedicada a la música.
Nacido en 1942 en New Hampshire, EE.UU., como Ronald James Padavona, y clasificado como "el vocalista más importante de la historia del heavy metal" llegó a formar parte de varios prestigiosos grupos del heavy metal.
Todo comenzó con la creación del grupo Elf, que trabajaron como teloneros del Deep Purple de Roger Glover. A Richie Blackmore le llamó la atención la potente voz de Dio y cuando abandonó Deep Purple, lo reclutó para su nuevo grupo, Rainbow.
En 1979, Dio sustituyó a Ozzy Osborne como cabeza de Black Sabbath y logró reavivar a la banda. En 1982, creó el grupo Dio (debido al tirón comercial que ya tenía el nombre) con Vinny Appice, antiguo miembro de Black Sabbath. Finalmente, en 2006, formó parte de Heaven and Hell, una colaboración con otros miembros de Black Sabbath, como Tonny Lommi y Geezer Butler.
Entre grupo y grupo, Dio también hizo varias colaboraciones como por ejemplo con, Roger Glover en 1974, Deep Purple desde 1999 a 2001, Girlschool en 2008 o el álbum navideño "We wish you a Metal Xmas and a headbanging New Year" con varios artistas en 2008.
Cielo o infierno, más allá del arco iris, donde quiera que esté, se le echará de menos y nunca será olvidado. Dio pasará a ser lo que ya fue en vida: una leyenda del heavy metal.
Descansa en paz Ronnie James Dio.